"FAR TOO MANY PEOPLE IN THE WORLD SUFFER NEEDLESSLY BECAUSE THEY DON'T UNDERSTAND THEIR PERSONAL AREAS OF WORKING GENIUS. AS A RESULT, THEY DON'T DO THE KIND OF WORK THAT GIVES THEM JOY AND ENERGY." 
Patrick Lencioni, Author and Creator of The Six Types of Working Genius
Often times, doctors and leaders attribute the failures and struggles of their team to having a bad attitude or not being smart enough. Understanding their team member's areas of Genius and Frustration can help leaders recognize if each team member is in the proper role. This ensures days run more effectively, which has an immense impact on productivity and satisfaction.
THE 6 GENIUSES ARE DEFINED AS THE NATURAL GIFT OF: 
Wonder-Pondering the possibility of greater potential and opportunity in any given situation. 

Invention- Creating original ideas and solutions. 

Discernment- Intuitively and instinctively evaluating ideas and situations. 

Galvanizing- Rallying, inspiring and organizing others to take action. 

Enablement- Providing encouragement and assistance for an idea or project. 

Tenacity- Pushing projects or tasks to completion to achieve results. 
The six types of Geniuses are necessary to achieve results in any organization. However, no one is good at all of them. Lencioni's tool helps us discover our combination of gifts, competencies, and frustrations.
THE 3 CATEGORIES OF GENIUSES:
Working Genius- A person's two areas of strength. These areas of work are typically areas of work that bring joy, and leave the person feeling energized and fulfilled.

Working Competency- The two areas where people are capable of working well in, and may be really good at, but it doesn't usually bring joy or energy to the person.

Working Frustration- These are two areas people can work in, but may not be good at, or enjoy doing.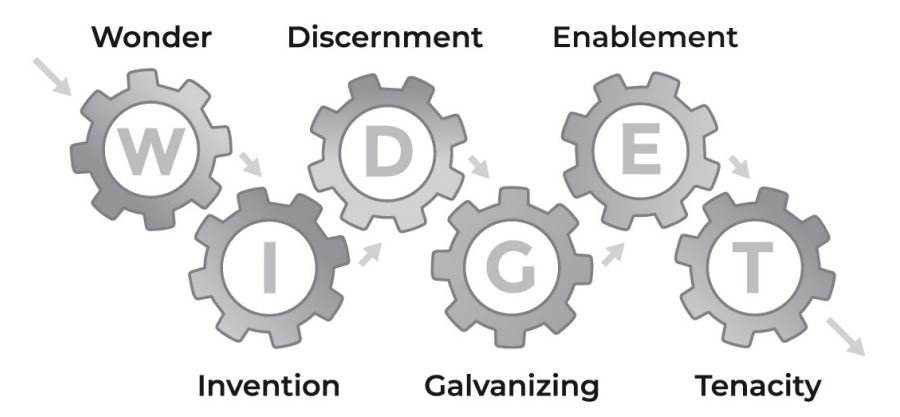 Lencioni presents the Geniuses as cogs in a wheel. The imagery here is essential because it represents how all the Working Geniuses are required to accomplish their goal. If any of the cogs are missing, the team can't perform at its optimum level, and the gears stop turning.
THE 3 PHASES GENIUSES GENERATE PRODUCTIVITY:
Ideation Phase- Using the first two Geniuses, Wonder and Invention. Wonder will identify the need for change, and invention will generate ideas and solutions.

Activation- This phase includes the Geniuses Discernment and Galvanizing. Discernment will access the workability of the idea, and they will take charge to refine the plan. Galvanizing inspires and moves the team into action, and has the ability to push others outside of their comfort zone.

Implementation- Includes the Working Genius of Enablement and Tenacity. Enablement will help push things forward while encouraging others. Tenacity ensures successful results and will not quit until the task is complete and up to standard.
THE IMPACT WHEN A TEAM IS UNDERREPRESENTED IN A WORKING GENIUS IS:
Wonder- They will often fail to identify problems while the team focuses on being efficient rather than effective.

Invention- They may find themselves revisiting the same problems over and over because a solution has not been found.

Discernment- They will find themselves trying to implement ideas or solutions because they were suggested, not because it's effective.

Galvanizing- They fail to generate the enthusiasm necessary to get the new idea off the ground.

Enablement- Their projects will start to wither after starting. New ideas or projects are not supported or implemented.

Tenacity- Their best ideas and projects that have been started fail to make it to completion.